Testimonials
Jackie was super helpful with this design and personalization as well as the color and super soft fabric in this Tee! They arrived super fast too! These special ladies (Becky and Liz) Loved their shirts! So did I! Thanks so much Jackie! Great job!

Connie
The seller was so helpful and patient while we found the perfect shirt and it's even more beautiful than I imagined! I will definitely coming back for future orders.

Hannah
Thank you so much! This was a custom order and it was done beautifully. Jackie was so easy to work with ....she couldn't have been any nicer! She took my vision and made it a reality. Can't wait to wear our matching shirts for our birthday trip to Disney; I'll send pictures then.

Sharon
My family absolutely love their matching tshirts. Great quality, doesn't fade in the wash and pretty much true to size. The colors and designs are vibrant. We will definitely be ordering from here in near future.

Farrah
I was reluctant to order these shirts because I waited until the last minute to think of this before our cruise, but I took a chance and so thankful I did. From the time I placed the order online until the product was made and in the mail was less than 24 hours. Communication from the seller was amazing. The shirts turned out amazing and fit great. I will most definitely order again from this company again.

Christopher
We received our family cruise T-shirts' today and I am very excited!! The shirts are great!! Jackie was easy to work with. She replied to my questions quickly and our shirts arrived looking good with all personalized requests on point!! Can't wait to wear them on our cruise!!🚢

blkhornets
She was able to get them out in time, even with my requested color & style not readily available. Communication was on par. Wore it on our Disneyland trip yesterday! 👍🏽

reenapeena
Loved all my shirts and invites. Great Quality and great Service.

Barbie F.
I absolutely love this shirt. Shipping was fast and the quality of the shirt is amazing. One of the best purchases I've ever made from Etsy! Thank you so much!

Jen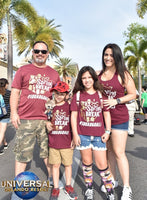 Hi! Welcome to my Shop!
I'm Jackie! I offer beautiful custom t-shirts, party invitations,  graphic design, marketing and printing services.
I am a lover of Art,  Disney, fitness, traveling and especially being a wife and mom!
Let me help you design the most amazing shirt for your next group vacation!
Contact me today, I am looking forward to working with you.
The possibilities are endless!